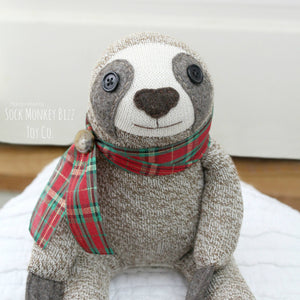 Sock Monkey Sloth Doll, Plush - Classic Christmas Plaid
Sale price Price $ 66.50 Regular price
Due to the sloth's eyes, this toy is not suitable for babies or smaller children.
Sock Monkey Sloth is made when ordered with a creation/ shipment period of 3 - 5 business days.
Materials
Large Original Pink Rockford Red Heel Socks
Ultra and Premium Polyfil
Upholstery Thread
100% Wool and Wool Blend Felt
Classic 4 hole buttons (eyes)
Measurements
15" from the top of the head to the foot
Details
Sock Monkey Sloth Doll is sewn by machine and hand; all seams are double stitched using double thread.
Shipping
Dolls ship within 3-5 business days of received order; tracking and insurance is applied.