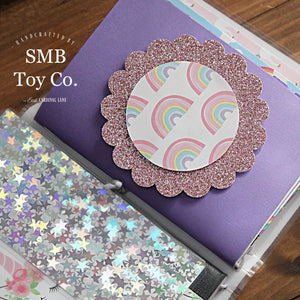 Mini Travel Journal - Unicorns & Rainbows
Sale price Price $ 24.50 Regular price
Mini Travel Journals include 3 mini notebooks with 80 pages each of lined paper, 1 mini scrapbook with folder pockets, 2 novelty paperclips, 1 bookmark, and a glitter shaker.  
The cover is laminated for durability and closes using elastic cord.  Each mini notebook and scrapbook are removable for ease of writing.
Measurements - 2.5"x5"