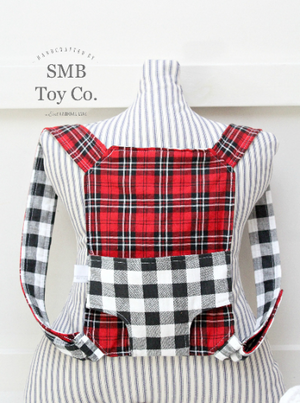 Front Wearing Baby Doll Carrier - Black White Buffalo Check & Red Plaid
Sale price Price $ 49.50 Regular price
Reversible Doll Carrier - Baby Doll shown is sold separately.
This is a toy and is NOT intended to hold a real baby. Not for children under the age of 4.
Materials 
100% Cotton (Heavy Weight Cotton and Soft Light Weight Cotton)
Polyester Batting
Nickel Finish D-Rings
Details
Measures 9" wide x 11" long; straps 19.5" from the top of the carrier, around the back, and to the D-ring + 5" overhang for attachment
Doll shown is NOT included in this purchase. Straps go over the shoulder, criss-cross on the back, go under the arms to the front, and fasten using hook & loop fastener. Doll Carrier is washing machine safe, line dry, iron if needed on cotton setting.