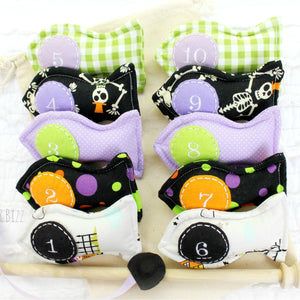 Haunted Halloween Magnetic Fishing Game
Sale price Price $ 49.50 Regular price
Haunted Halloween
American Made Toys
Magnetic Fishing Game, Children's Toy
This fishing game is recommended for children ages 3+
Perfect for quiet-time play, take-along for road trips, and to play with a friend.
Materials
- Muslin Storage Bag
- 1 Hardwood Fishing Pole
- Neodymium Magnet - sewn inside the "hook".
- Metal Washers - sewn inside the fish.
- Grosgrain Ribbon
- 100% Cotton
- Polyester Batting
- 100% Wool and Wool Blend Felt
Measurements
About
Muslin Storage Bag
Pole - 11.5"
Fish - 3" x 5"
Details
Sewn by hand and machine, spot cleaning is recommended.  Embroidered numbers are available for this fishing set.  Please see the last photo for an example and the drop down menu for this option.
Fishing set includes -
- 1 - 11.5" fishing pole
- 10 fish
- a muslin storage bag
Fishing game ships within one business day of received order.  If ordered with another "Made to Order" item, the later time period will be applied.