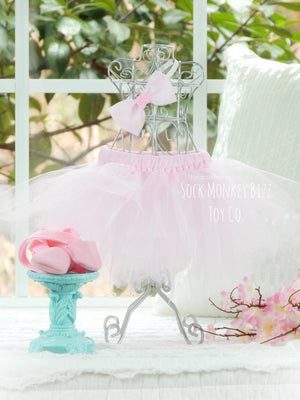 Light Pink Ballerina Tutu Set for Sock Monkey Bizz Dolls
Sale price Price $ 24.50 Regular price
Light Pink Ballerina Tutu Set for Sock Monkey Bizz Dolls.
**Tutu sets are made to order with a creation to shipment period of 3-5 business days.

Materials
Tulle
Grossgrain Ribbon
Wool and/ or Wool Blend Felt

Details
Ballerina Tutu Sets are custom designed and made to fit Sock Monkey Bizz Toy Co. Dolls; I cannot guarantee the fit to other Sock Monkey makers/ brands.  Skirt accommodates a 10" doll waist.
Bow attaches to Sock Monkey Doll by elastic, shoes tie with ribbons.