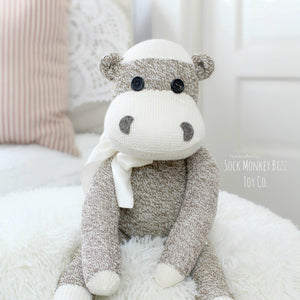 Hippopotamus, Handcrafted 18" Hippo Doll
Sale price Price $ 68.50 Regular price
Made when ordered with a creation to shipment period of 5-7 business days.

Due to the doll's, this toy is not suitable for babies or smaller children.

Materials
Large Original Rockford Red Heel Socks
Ultra and Supreme Polyfil
Classic 4-hole button eyes
Wool and/ or wool blend felt.
Measurements
About - 18" head to foot

Details
Sewn by machine and hand; all seams are double stitched using double thread.  Dolls are stuffed using Premium and Ultra Soft Polyfil.
Please choose the color of your ribbon above.

Ribbon is removable.