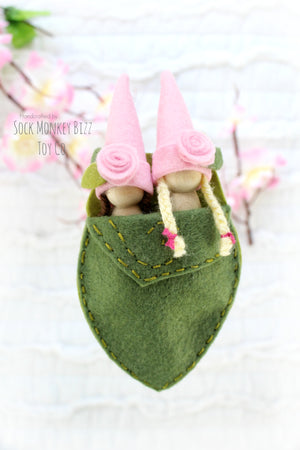 Wooden Peg Dolls, Pink Rosebud Sister Pixies
Sale price Price $ 24.50 Regular price
Pink Rose Pixie Sisters, Wooden Peg Dolls

**Made to order with a creation to shipment period of 3-5 business days. However, if ordered with another 'Made to Order' item, the later time period will be applied.

Please keep out of the reach of babies and young children.

Materials
Wooden Peg Doll
Wool blend felt
Acrylic Yarn

Measurements
Dolls - including hat - 3 1/2"
Leaf bed - 4 1/4" long.

Details
Wooden Peg Dolls are rubbed using a mineral oil to bring out their natural grain.
Their hats are not removable.
Listing is for two dolls and their leaf bed.
**Please choose your doll's hair color to the left.

Shipping -
Peg Dolls ship within 3-5 business days of received order via USPS First Class with tracking and insurance.